Our security cameras have captured criminals, intruders, and even cats, but nothing quite like this! Weird? Spooky? It certainly is! On the 18th August one of our customers in Birmingham received an alert at 01.53 showing a woman in a white dress on their worksite.
By 01.56 our security team were aware and were responding. By 02.06 our security team were on site, performed a full patrol and the site was declared all clear.
What is fascinating is that the image clearly depicts a woman floating, with a translucent dress. We are not sure we believe in ghosts here at Limitless, but this had us confused! We were not the only ones. After being posted on Twitter, the post has gathered thousands of likes, retweets and comments with internet users equally confused, some even posting their own theories that the image was somehow altered in some way. The story has even been covered by The Sun, Birmingham Live, and The Mirror.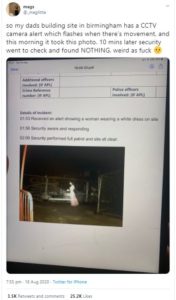 A report is automatically generated when disturbance is found by any of our CCTV cameras. The report can be found below.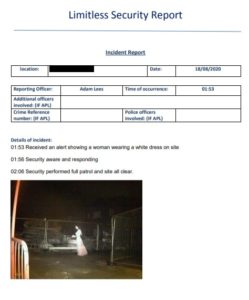 We are a leading provider of security solutions for the housebuilding and construction industries.  Our business is focused entirely on construction and, with more than 30 years experience, we understand the challenges that the industry faces on a daily basis.
We recognise the requirement to reduce the cost of break-ins, thefts and damage to building sites, whilst maintaining and managing the costs of security within acceptable limits.
Our VIDAR system is designed to provide 24/7 protection by detecting intruders and capturing clear images, such as this one, for full visual verification. It is at the heart of our managed service which provides a unique package of building site management and security solutions including detection, monitoring and response.
We are not sure this intruder was intending to steal anything, but at what point do you decide to install security measures on a construction site? Do you wait until you consider the value of theft or vandalism exceeds a projection of site security cost before you take action?
We know that such decisions are often based on a perception that the price of security may outweigh the cost of an intruder event. This is understandable when the costs of traditional manned guarding contracts and CCTV installations are considered.
But a fixed cost managed security solution from Limitless Security can be a very pleasant surprise. As well as having a predictable cost, it also takes away the headaches and hassles that are involved in installing, managing, and maintaining security equipment on building sites.
We think that our solution is unique. It includes a risk assessment, the supply and installation of all equipment, all services and site security signage, documentation of any events for evidential purposes and the provision of information to responding agencies. All for a single, fixed monthly cost.
To find our more please email us (info@limitlesssecurity.com), or call us on 01922 687746.